Motion Studio Asia, situated in PIK, offers you the opportunity to create your first abstract painting with ease. Our studio is equipped with three floors of fun art jamming activities, perfect for unleasing your creativity with friends, family or colleagues.
Motion Studio Asia is the perfect destination for individuals of all ages and skill levels who are looking to express their creativity through art. Whether you're a seasoned artist or a complete beginner, our studio offers a welcoming and supportive environment that is designed to inspire and encourage you to create.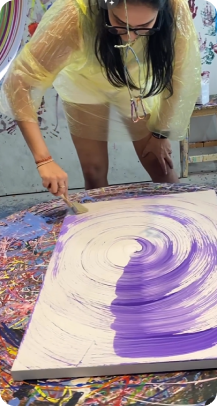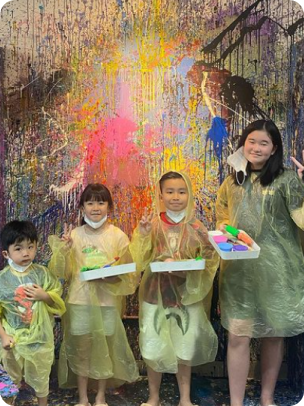 Science Meet art jamming!
Create beautiful art to take home with Newton's law of motion. No art background is required! All it takes is a small push for gravity and inertia to do its work.
Perfect activity for Family, dates or friends
Fun and safe art jamming activity with your family, date or friends. We have great music and atmosphere to let your hair down!
Our
Packages
All packages comes with canvases and paints. Add-ons available!
Hosting a party, gatherings or
a corporate team bonding session?
Motion Studio Asia is a versatile and inclusive destination that caters to a wide range of events and occasions. Our art jamming sessions are perfect for team bonding events of all kinds, providing a unique and creative environment that encourages collaboration and inspires teamwork. In addition, our studio is also ideal for special celebrations such as birthdays, anniversaries, and Valentine's Day.
Contact us at [email protected] for private packages for your birthdays, anniversaries or corporate activities
Discover the Buzz and
Excitement Surrounding Our Studio
Our Motion Studio business as it has garnered attention from numerous media outlets, captivating audiences with its innovative approach to artistic expression.
Insert Today – Rupa Wisata
Trans TV
Weekend Gateway
CNN Indonesia
How to
Get Started
Motion Studio Asia offer a variety of fun and creative way to unleash your inner artist and create a unique masterpiece to take home. Here's a step-by-step guide to what you can expect when you book an art jamming session
Book a session online
Choose a date and time that works for you and book your art jamming session online. You'll receive a confirmation email with all the details you need to know.
1
Attend short briefing
When you arrive at the studio, you'll attend a short briefing where you'll learn about the different types of art tools and techniques you can use to create your masterpiece. Our friendly and experienced staff will be on hand to answer any questions you may have.
2
Select your art tools
Once you've had your briefing, you'll get to choose the art tools and materials you want to work with. We provide a wide range of tools, including paint brushes, spatulas, bottles, and more, so you can experiment with different techniques and styles.
3
Make your art
With your tools in hand, it's time to start creating! You'll have plenty of time to experiment and play around with different colors and textures, and our staff will be on hand to offer guidance and advice if you need it.
4
Collect your masterpiece
Once you're finished, you'll need to wait for your art to dry. This can take up to 48 hours, depending on the type of paint you've used. When your masterpiece is ready, you can either collect it from the studio or arrange for it to be delivered to you.
5
Frequently Asked Question
Motion art painting, also known as motion painting or kinetic art, is a form of abstract art that incorporates movement and the illusion of motion into the creative process. This type of painting often involves the use of mechanical or electronic devices to move the paint across the surface of the canvas, resulting in dynamic and often unpredictable patterns and designs.
Motion art painting can also involve the use of other materials, such as light and sound, to create a fully immersive and sensory experience for the viewer. This type of art often blurs the boundaries between traditional art forms, such as painting and sculpture, and can be found in a variety of contexts, from galleries and exhibitions to public installations and events.
Pendulum painting is a form of abstract art that involves the use of a swinging pendulum to create unique patterns and designs on a canvas or other surface. The pendulum is typically made up of a weight or object that is attached to a string or wire, and is set in motion by hand or through a mechanical device. As the pendulum swings, the weight creates a rhythmic pattern of movement that causes paint to drip or flow onto the surface below.
Pendulum painting can be done using a variety of tools, such as different types of paint and canvas, as well as different types of pendulum weights and lengths. The resulting patterns and designs are often highly intricate and visually appealing, and can be used in a variety of artistic contexts, from individual pieces of artwork to larger installations or exhibitions.
Splat painting is a form of abstract art that involves dripping or splattering paint onto a surface, typically a canvas or paper, to create a unique and often chaotic design. The technique can be performed in a variety of ways, from throwing or flicking the paint onto the surface to using tools like brushes, sponges, or even bare hands to create splatters and drips.
Splat painting is often associated with the modern art movement and has been used by many artists to create unconventional and expressive works. The unpredictability of the splatter patterns and the use of bold, bright colors often result in visually striking and dynamic pieces that can convey a sense of energy and movement.
Splat painting is a fun and accessible technique that can be enjoyed by artists of all skill levels, and can be used to create a wide range of artwork, from individual pieces to larger installations and exhibitions.
In 2021, the founder of Motion Studio Asia conceived the innovative idea of commercializing the spin and pendulum technique in Singapore, making it accessible to the general public. As a company, our vision is to unlock and foster the creative potential of individuals through the medium of art.
Crafting your first artwork at Motion Studio Asia is an effortless and enjoyable experience. Upon arrival, our team of artists will allocate you a 90-minute session at a station of your choice, namely motion painting, pendulum painting, or splat painting. Once you have confirmed your booking, please follow the steps outlined below for a smooth and hassle-free process:
Step 1: Put on your protective gear

Step 2: Select your canvas size

Step 3: Pick your colors

Step 4: Select your tools

Step 5: Create your abstract art
As part of the package, we will include protective gears, a variety of paint selections and tools to create your own unique art.
Our paint is washable, non-toxic and it is safe for kids to use. Motion Studio Asia uses a mix of ingredients to create the perfect paint for motion, pendulum and splat art.
Everyone can be an artist at Motion Studio Asia, no age requirements and art experience required. We have customers as young as 2 years old to our oldest customer who was 70 years old.
Our experienced staff will be there to give you guidance, however we strongly advice you to try on your own, make mistakes and experiment with a variety of colours and tools available to you. More importantly, have fun and enjoy your time at Motion Studio Asia.
A varnish for painting is a clear, protective coating that is applied to a completed painting to help protect it from environmental factors such as dust, dirt, UV light, and humidity. Varnish can also help to enhance the colors and depth of a painting, giving it a glossy or matte finish depending on the desired effect. Varnishing is an important step in the preservation of a painting, and can help to ensure that it remains vibrant and protected for many years to come.
Usually it will take 24-48 hours for your painting to dry. At the end of your session you will be asked by our staff to arrange a pick up date & time for your art work.
Requests to reschedule sessions can be made up to 24 hours before your scheduled slot. However, please note that we do not offer refunds or allow cancellations for bookings.
Bearbrick painting involves customizing and transforming Bearbrick toys through artistic techniques such as painting, airbrushing, and adding intricate details. It allows artists to personalize the toys with unique designs, colors, and patterns, turning them into one-of-a-kind artworks. This form of artistic expression is popular among collectors and artists within the designer toy community.
Motion Studio Asia offers a range of creative services including motion painting, splat painting, and bear brick painting.
To make a booking with us, follow these simple steps:
Choose your desired activity, specify the number of participants, and select a session.
Sign up or sign in to our platform.
During the booking process, select Xendit as your preferred payment option.
Choose your preferred payment method, such as credit card, bank transfer, or e-wallet, and proceed with the payment.
By following these steps, you'll be able to successfully make a booking with us.
Xendit.com is a digital payment platform and financial technology company based in Southeast Asia. It offers a wide range of payment solutions and services to businesses and individuals. Xendit enables businesses to accept payments from customers through various payment channels, including credit cards, bank transfers, and e-wallets. The platform provides secure and convenient payment processing, helping businesses streamline their payment operations and improve the overall customer experience.